You are here

Why Constellation?
Why Constellation?
We serve our clients during the financial planning process with deep and meaningful relationships that last for generations.

A financial plan must reflect the stage of life its owner is in: whether purchasing a first home, financing a child's college education or planning for retirement. A plan must reflect its owner's personal or business situation, and highlight those financial products that best fit it. A custom-tailored financial plan must also be continually reviewed to measure its achievements against stated aims, and ensure the owner is comfortable everything is moving forward according to plan.
About
Constellation Financial Advisors is an independent investment services firm providing comprehensive investment services to individuals and corporate clients across the country.
We help simplify our clients' financial lives, grow and protect their wealth, and achieve their most important financial goals with cost-efficiency and reliability. As an investment services firm, our primary focus is to provide objective opinions that are designed to achieve long term investment results.
Constellation Financial Advisors does this with the highest levels of trust, integrity and respect while always collaborating using a team approach.
We are dedicated to professionally supporting, educating, and providing informed direction to each and every client.
What You Can Expect From Us
A commitment to professionalism and the cooperative development of unique, personal goals forms the foundation of any strong financial plan.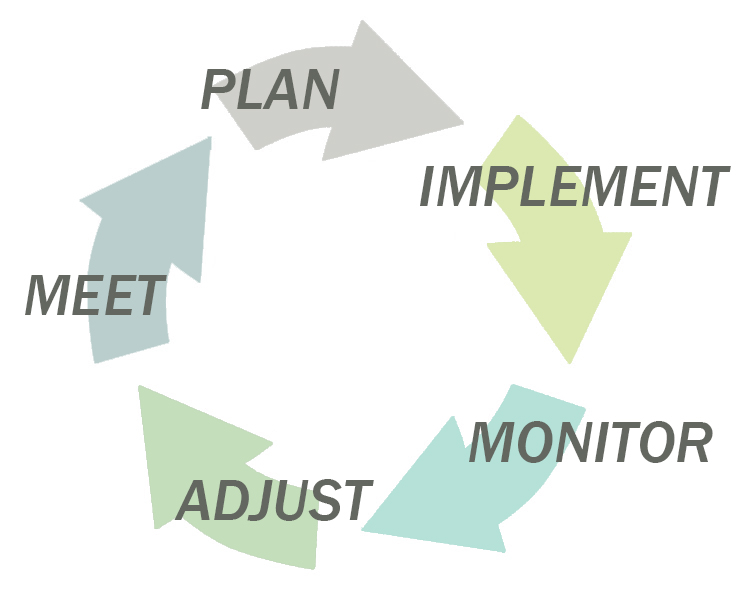 MEET: Meet to understand your goals.
PLAN: Develop a plan to reach them.
IMPLEMENT: Implement the recommendations.
MONITOR: Monitor your progress.
ADJUST: Make adjustments when necessary.
Because there are many factors that may change in your situation or the environment, it's of the utmost importance to us to be proactive and knowledgeable in the financial industry. We are committed to staying up-to-date on relevant tax, estate and social security laws in order to provide you with the best financial advice for your particular situation.
As an added service, we maintain relationships with the best local insurance providers, attorneys and accountants, who can help you manage life's responsibilities.
If you ever have questions about your plan or about specific financial products, contact us. We will set up a time to meet to review your needs and address any questions you may have.
Code of Ethics
Constellation Financial Advisors adheres to the highest ethical and professional standards in the industry. In doing so, we provide financial planning in the best interests of our clients and offer independent, objective, and comprehensive advice.
We abide by the following principles:
Client First
Acting in our clients' best interest is our foremost priority.
Integrity
We seek to uphold the highest standards of professional integrity.
Objectivity
We strive to be as objective as possible when providing advice.
Professionalism
We conduct ourselves with the professionalism, integrity, honesty and respectful treatment of all.
Competence
We are committed to continuing education and maintain a high level of knowledge and ability in order to best serve our clients.
Fairness
We strive to be fair and reasonable in all professional relationships.
Confidentiality
We keep all client data strictly private, treat all documents with care and dispose of personal information properly.
Diligence
We fulfill professional commitments in a timely and thorough manner.